On Chumaround you need to contact your host to schedule an appointment.
To schedule an appointment:
Step 1: Click Request Appointment or Contact Host on the host's booking page.
Step 2: Add Your Subject
Step 3: Answer and submit the recommended questions to the host.
Step 4: Click Send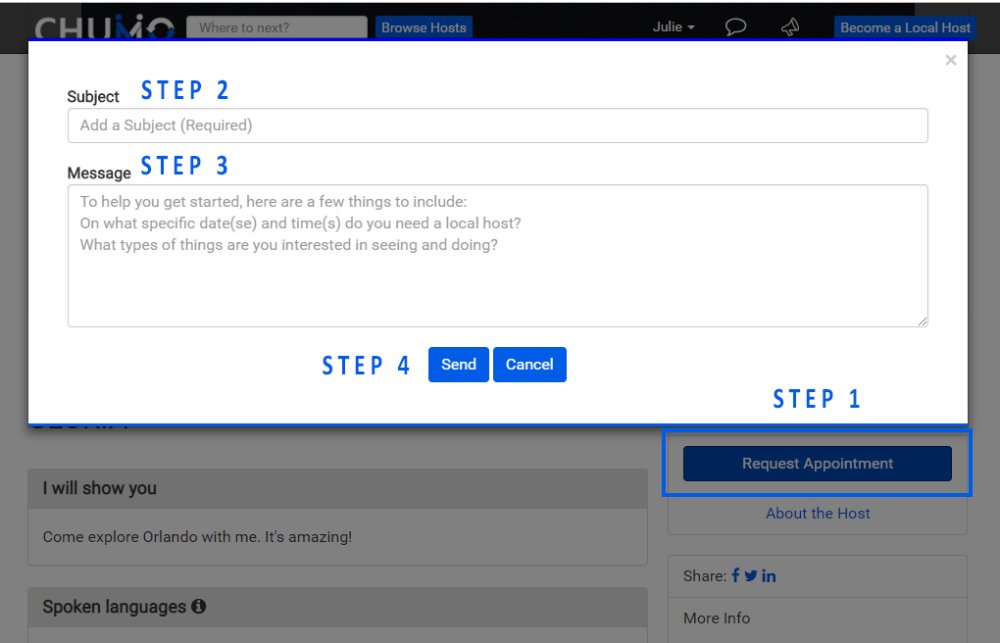 Appointment Request Tips
When you send your message, make sure it's not copy-pasted. Take the time to personalize it the the host you are writing to. Experienced Chumaround hosts know that a guest is far more likely to be a good one—that is, a low-maintenance and pleasant person who leaves a decent review—if their expectations are met. Your message is the place to talk about the things you'd like to do and see and make sure it aligns with what the host's interests and offering.
Finally, it's important to remember that hosts are regular people that have normal jobs and have various responsibilities. They may or may not be available on the dates you're requesting. That's why it's a good idea to send out several reservation inquiries when looking for a local host to hang out with.
Feedback
Thanks for your feedback.