Overview
Verification gives members peace of mind knowing the people they meet are who they say they are. Members who go through the verification process confirm their name, address and phone number. Once you've been verified, you will receive a verification badge on your profile page and any host pages you create. It will also enable to to send unlimited messages to all Chumaround members. Learn more on our Verification page.
How does it work?
Step 1
Login to Chumaround
Select the Account Settings tab
Update your First Name, Last Name, Address & Phone Number
Step 2
Select the Verification tab
Select the 1 Year or Lifetime Verification Option
Complete Your Payment
Step 3
Chumaround will verify that your payment credentials match the name and address on your Account Settings page.
Chumaround will contact you to verify your phone number.
A verification badge will be added to your Chumaround profile and listing pages.
Why should I verify my account?
Enhance Credibility
When a member views your profile, they'll be able to see a verified badge which indicates you have completed the verification process.
Increase Connections
Before a booking can occur, both guests and hosts have the opportunity to review and vet each other. When you add a verified member badge to your account, you will be accepted more as a guest, and receive more booking requests as a host.
Support Chumaround
As you know, Chumaround is completely free to use. By adding a verified badge to your profile page, you are making a conscious decision to support our community.
How much does verification cost?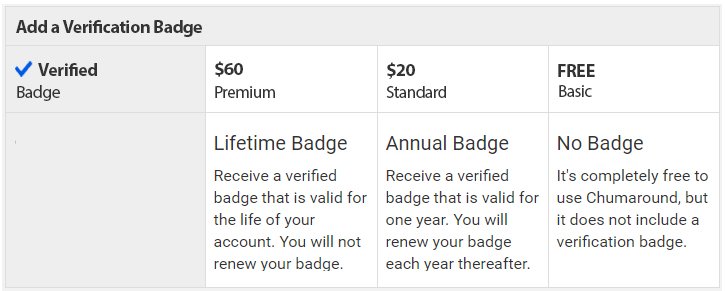 We currently offer a One-Year Verified Badge for just $20 or a Lifetime Verification Badge for $60 USD. The one year badge requires a $20 payment each year for the life of the account. The lifetime badge enables you to pay just once and we will re-confirm your badge each year no additional cost on your behalf. No future charges, no subscriptions, no hassle!
Feedback
Thanks for your feedback.