When you create a host page on ChumAround, users will be able to book your services directly from the listing you created. When a booking occurs, you will offer your guests a payment option. The current payment options for Chumaround are as follows: On Chumaround, a local host can choose whether they want to be be (1) paid immediately for guest bookings or (2) receive payments when they meet their guests.
To locate payment settings for your listing:
(1) Go to your Dashboard
(2) Click the My Listings Tab
(3) Find the Live listing you would like to manage.
(4) Click the Manage Icon
(5) Click the Payment Settings Tab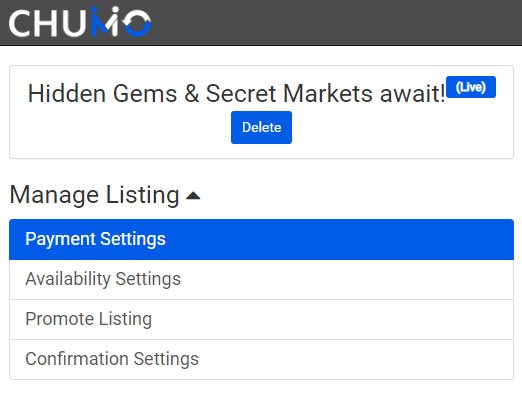 To manage payment settings, please read the instructions for:
Request Payment When You Meet
Require Guests to Prepay
Note: You can only manage payment settings on Live host pages. You can not set payments for draft listings.
Feedback
Thanks for your feedback.