You can require your guests to pay for their chum around when they make their booking.
If you decide you'd like to get paid by your guests before you meet, you can quickly connect the Stripe payment gateway to your account. It takes just a few minutes to open a Stripe account and then connect it to your listing. You can then transfer your earnings directly to any bank account you've added to your Stripe account.
To connect your new listing to your Stripe account:
(1) Go to Your Dashboard
(2) Select the My Listings Tab
(3) Locate the Listing
(4) Click the Manage Listing Icon
(5) Click the Payment Settings Tab
(6) Click Connect Stripe
(7) Login or Sign up for Stripe
(8) Click Save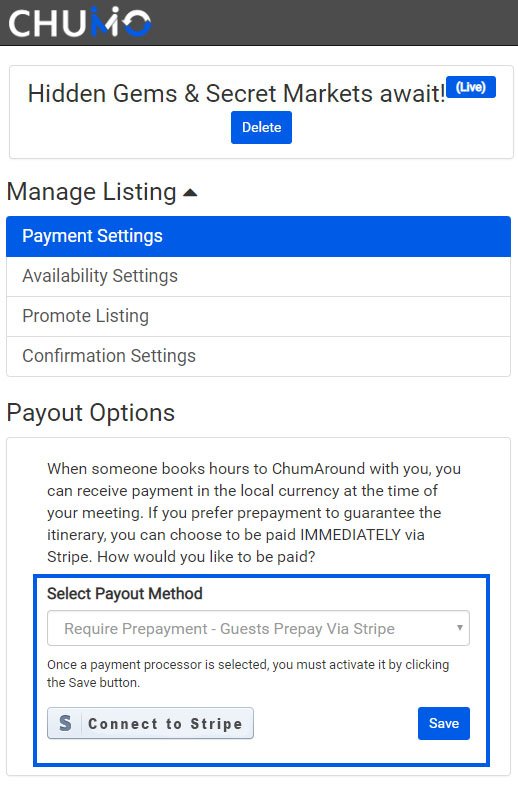 When you ask your guest to prepay for your chum around, booking will work like this:
(1) The guest will visit your booking page.
(2) The guest will select the number of hours you agreed to meet.
(3) The guest will complete the registration form.
(4) The guest will be directed to a payment page where they can pay for the agreed hours.
(4) The guest will be directed to his/her booking page where they can print their reservation.
(5) The guest will present their reservation to you when you meet.
About Stripe
Founded in 2010, Stripe (stripe.com) is a web application that makes it easy for Chumaround hosts to accept credit card payments via the Chumaround platform. We've selected Stripe as our payment processors because: It aligns with our goal of providing a secure, and easy to use experience for users of the ChumAround platform; They provide superior customer service; They have an incredible 250 million worldwide users, and; With Stripe we know all guests and hosts will have peace of mind when making pre-paid bookings on the ChumAround platform. Stripe does not charge any setup fees, monthly fees or monthly minimum fees. Your customers will simply pay a 14.5% service fee when they book hours to Chumaround with you.
To connect Stripe, you will need to be from one of the listed countries: Stripe In Your Country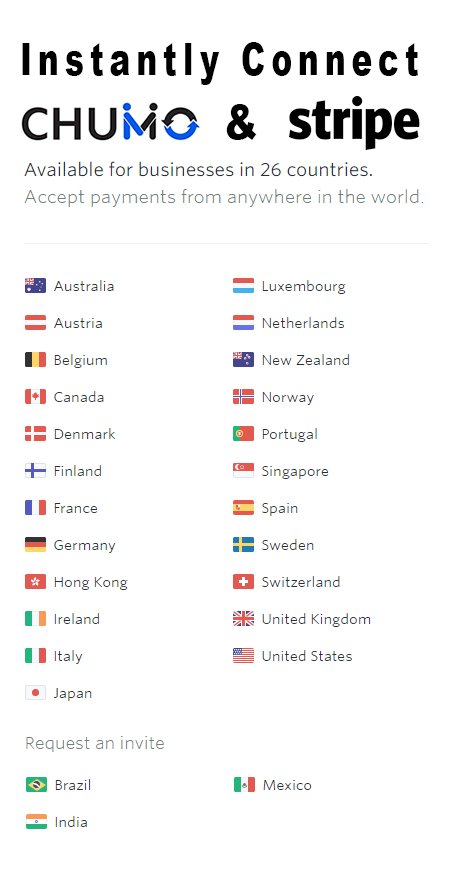 Feedback
Thanks for your feedback.