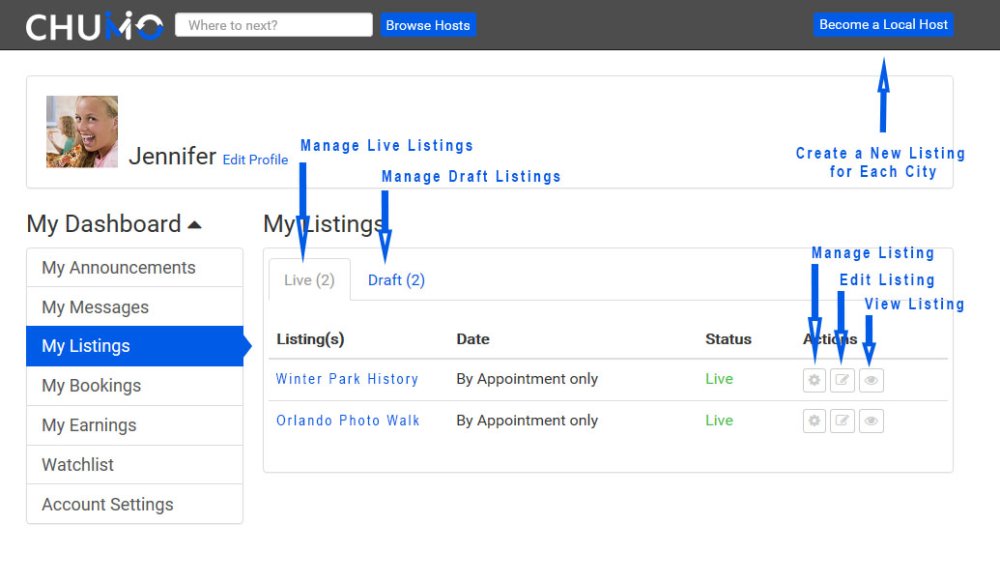 Create Multiple Listings
You can create and manage multiple listings from one Chumaround account. There are two reasons you might want to create multiple listings:
Multi-City Hosting: You might be familiar with the in's and outs of multiple cities near you and you'd like to offer host service in each city. If you live in City A and would like to be a host in City A, City B, and City C, you should create a new listing for each city that you'd like to be discovered in. You will be able to manage all your listings from one Chumaround user account.
In the example above, Jennifer lives and goes to school in Winter Park, Florida so she creates a host page in Winter Park. Since Winter Park is a city located next to Orlando, Florida, Jennifer decides to create another listing for visitors looking for someone to chum around Orlando. She can manage both listings from one user account.
Multi-Specialties: You can also create multiple listings if you'd like to showcase multiple specialties. For example: You know a second language really well and you'd like to create a listing that showcases your expertise and offer to translate or interpret for people on business trips. You would create a local listing that specializes in Interpretation and Translation.
Now let's say you also enjoy nightlife and you can show people the best disco's, bars, or places to enjoy the local nightlife scene. In this instance, you wouldn't combine your specialties to become a nightlife interpreter, but rather you'd create two separate listings that separate the services you offer. Your first listing would invite people on business trips to book your translation services, and a separate listing would showcase your expertise as a local nightlife host.
Feedback
Thanks for your feedback.