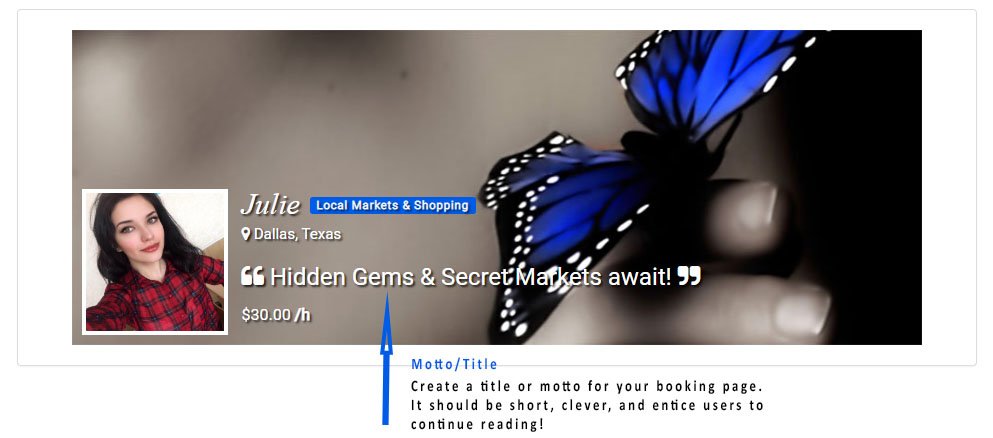 Add an enticing title to your booking page.
Your title may be the first and only thing user read about you, so it's important to create a short catchy title that captures the attention of people browsing the search page. Coming up with just the right title can make a big difference on whether people navigate to your booking page and decide to book you as a host. Thus, what you write here can shape first impressions and influence how potential guests start thinking about you. Here are a few things to keep in mind while deciding how to title your host service:
Your title should "set the tone". Setting the right tone is critical to the success in getting booked. You need to select a compelling title that's in line with the tone and purpose. Are you going for humorous and eye-catching? Classic and sophisticated? Important? Hitting the mood right on the mark helps keep all your guests excited and engaged.
Your title should be bold, be clever – above all, be memorable. Take plenty of time to settle on just the right word or phrase that will stick with your audience. Consider using words that have strong emotional appeal associated with them. If you can choose words that stand out and stir up positive emotions such as excitement, joy, or curiosity, then your title will leave a deeper impact on the people who see it.
Your title should be short and relevant. Lengthy titles can be difficult to remember, so it's sometimes more effective to use only a few words that encapsulate your host service. To help you out, we set the title limit is set to 35 characters.
To add a title to your booking page, follow these steps:
(1) From Create a Booking Page
(2) Navigate to the Add a Motto Form Fill
(3) Add Your Title (Max. 35 Characters)
(4) Complete the remaining form fields
(5) Click Save or Make Listing Live

Feedback
Thanks for your feedback.