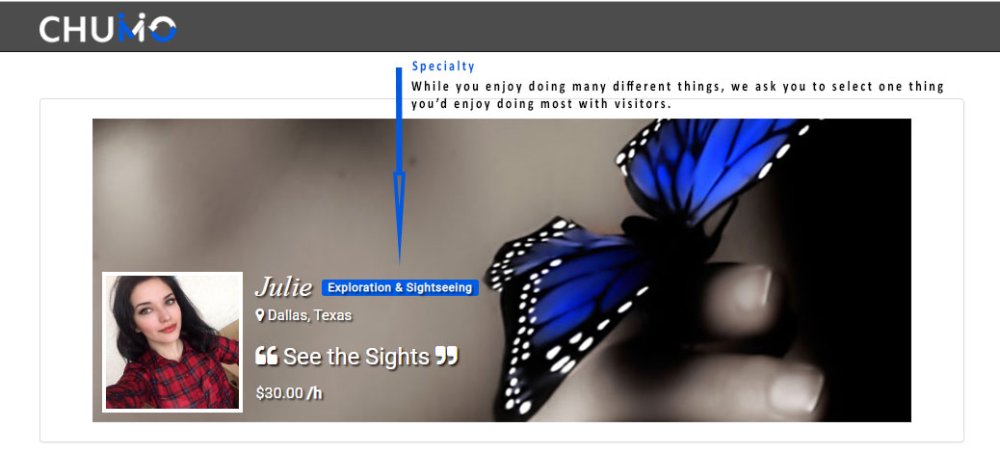 Select a Specialty – Explained
To make it easier for visitors to connect with people that can help them do the types of things they're most interested in, we ask that all hosts choose one area of expertise they'd like to showcase. This area of expertise is your – Specialty.
To select a specialty:
(1) Select Become a Host
(2) Choose a specialty from the drop down menu options.
(3) Input the remaining data.
(4) Save or Make Listing Live

For example: Maybe you've been a realtor for many years and you feel you'd be really good with chumming around with people that recently located or will be relocating. You'd be comfortable talking the about the best areas to live; the best schools for their kids; and offering tips and tricks that will help make their move easier. Then we'd ask you to select Relocation & Orientation as your specialty.
Perhaps you're a night owl and you enjoy going to your cities best dance clubs. Not only do can you tell people all the best places to go dancing and which days will be the best, but you might be able to get them free admission, VIP seating, or backstage passes. If this scenario we'd recommend you select Nightlife & Bars as your specialty.
The specialty you select should really focus on what you feel you'd be best at doing when chumming around with your guests. It makes it easier for potential guests to discover and book you as a local host.
Specialty vs. Interests
On Chumaround, when you select a specialty, it simply means that you are showcasing your most valuable area of expertise to the people that visit your city. But you still have other interests and there's a lot of other things you can show people in your city. Great!
You can still host any guest that contacts you to request a chum around to do things based on shared mutual interests. The more interests you have in common, then the more apt they will be that they book you as a host. To communicate all your various interests, simply update your interests on your profile page.

Creating Multiple Listings
You can also create multiple listings if you'd like to showcase multiple specialties. For example: You know a second language really well and you'd like to create a listing that showcases your ability to translate for business travelers. You would create a local listing that specializes in Interpretation and Translation.
But let's say you also enjoy nightlife and you can show people the best disco's, bars, or places to enjoy the local nightlife scene. In this instance, you wouldn't combine your specialties to become a nightlife interpreter, but rather you'd create two separate listings that separate the services you offer. Your first listing would invite people on business trips to book your translation services, and a separate listing would showcase your expertise as a local nightlife host.
To help make it easy for both host and guest to discover each other, Chumaround has created 12 Unique Specialty Types (Categories) in which you can classify the listings you create. To help you select the best category, we've listed the options and a brief description on the following pages.
Feedback
Thanks for your feedback.