A big smile makes friends!
Just like when you go on a job interview, the first impression you give as a Chumaround guest or host matters the most. Your photo is an integral part of your profile. Along with your description and interests, it introduces you to the Chumaround community. It is also your featured photo on Chumaround; the main picture of you that people see when they interact with you on Chumaround.
Tip: If you become a local host, you will have an opportunity to create a photo gallery on your host page, but the photo you upload to your profile page will always be your featured photo on Chumaround.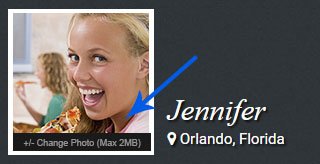 Here's some tips to help you choose the perfect photo for your profile:
Pick a Head Shot. Because profile photos appear as small thumbnails on Chumaround, your photo should only be of your head, neck, and possibly the top of your shoulders. If you include your entire body, your head will appear too small, and viewers may not be able to recognize you.
Keep it Simple. Your photo should be of you, and only you. Do not include objects, pets, or children. Avoid busy backgrounds. It's best to stand against a solid-colored, light background.
Select a Current Photo. Do not include a dated photo no matter how young and attractive you look. Use a current picture, so people aren't surprised when they meet you in person. It's strange to be introduced to someone in person who looks twenty years older than their online photos! It's important the photo is recent and will make it easy for people to recognize you when you meet.
Show your pearly whites. A smile improves any picture. Studies show that a smiling face appears more likeable than one with a neutral expression. Relax your mouth, show a few teeth, and smile naturally.
Keep things natural. You want people to be able to match your profile picture with how you normally look. A profile picture should focus on showing your features as they naturally are. If you do your makeup, wear bright lipstick and make sure your eyebrows are perfect so they will enhance your expression. Take off sunglasses or anything else that might obscure your features.
Crop your photo. Chumaround requires profile picture to appear square. They will display at 170×170 pixels on computer pages, and 128×128 pixels on smart phones. Before uploading your picture, you can play around with your favorite photo editing software to make sure that the photo can be cropped to this size and still look good.
Upload small files. In an effort to preserve storage space and keep operating costs down, Chumaround limits photo size. The maximum size of the photo you can upload is 2MB. If you go over that you'll receive an error message. You can review the image size before you upload it. Simply, right click on the image file itself, click on properties and view the image size. Remember that 2MB is equal to 2000 Kilobytes, so if you're under 2000 kilobytes, then your photo size is ok. If your image is too big, you can easily resize it by using a basic photo editor app on your computer or tablet or smartphone.
Adding an updated, clear photo with a big smile will definitely go a long way with helping you make more connections on ChumAround.
Feedback
Thanks for your feedback.